Be ready and be flexible
By this time we are getting used to things being shaken up on a regular basis. Part of me is excited about the hardships of tribal missions just because I'll live in one place for more than a year :).
We found out that our departure date for going to Mexico has been pushed back. Instead of leaving in April like we planned, we will be waiting until closer to August. We're not exactly sure when, and we're a little hesitant to put a set date at this point. But, tentatively, we're looking at August 15 or thereabout.
I'm a logistics guy. Like Hannibal from the A-Team...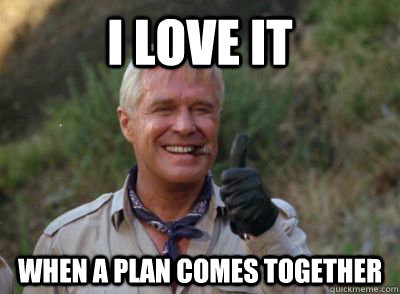 It's oddly satisfying when things come together like that, but we all know that life rarely goes according to plan. Since we've set out pursuing tribal missions as we believe God would have us, plans have changed over and over. At times we have been discouraged, but it has always been a good reminder that...
The mind of man plans his way, But the LORD directs his steps.
- Proverbs 16:9
Pray for us that while we keep following God, he would keep our hearts in check that we would be trusting him for every step. And that while planning is good, I can't rely on my best laid plans.